ZENO THE STOIC

Cyprus, 336 - 264 B.C.
THE GREATEST INDECENCY IS ARROGANCE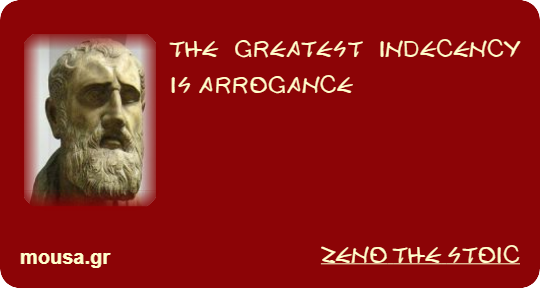 Copy and paste the following code:
Founder of Stoic philosophy. Little is known about his life. However, he was born in Citium, Cyprus and was the son of the merchant Mnaseos, and he also practiced the profession of merchant for a while. In Athens, Zeno is in the years 315 - 13, when he came close to the Cynic philosophers, whose influence can be seen in his first works. In 310 he founded his own school in Athens, with the aim of elevating and expanding the Cynic ethics of the Socratics Antisthenes and Diogenes, supporting it scientifically and connecting it with Heracleian physics and Aristotelian logic.
His students were initially called Zenonians, but later received the name Stoics, from the Poikili Stoa, where they studied. Zenon taught tirelessly for half a century until his death. He wrote many works, but they were all lost. The Athenians especially honored Zeno, both alive and dead, by erecting a monument, the inscription of which declared that the life of the philosopher was completely consistent with his teachings. Zeno lived as a hermit, and usually fed on bread, honey and figs. He only drank water.