NO ONE IS HAPPIER THAN THE POOR BECAUSE THEY ARE NOT AFRAID TO SUFFER WORSE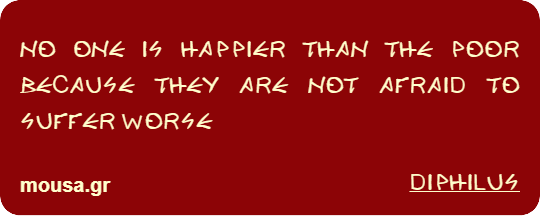 Copy and paste the following code:
Epic poet from whose work two choliambs survive. He seems to have written an epic entitled Theseis . Excerpts from his epic are perhaps those mentioned in Plutarch's Theseus. A Commentary on Pindar states: "... as Diphilos said, the poet of Thisis in iambus...". Another Commentary, on Aristophanes, states that Diphilus first composed an entire satirical poem against some Boides, which Eupolis and Aristophanes used as a model for their satirical poems against Socrates.