XENOPHON

Athens, approx. 430 - 354 B.C.
THERE IS NO BETTER TEACHER BUT NECESSITY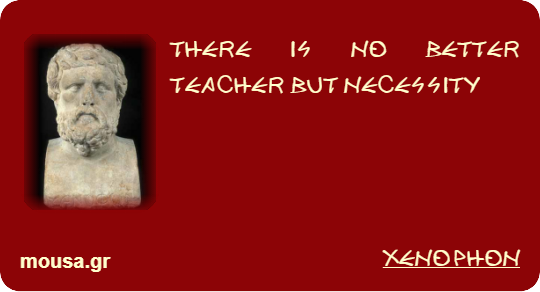 Copy and paste the following code:
Famous ancient historian, philosopher, writer and general, student of Socrates. After the defeat of Cyrus at Kounaxa by Artaxerxes, he led thousands of Greek mercenaries to Byzantium through a thousand adventures and hardships. The Athenians accused him of being "laconic" and exiled him to settle in Corinth. But later he returned to Athens, where he died. His works are products of an ingenious spirit and instead of lofty ideas, are historical, historico-political, philosophical and practical.
Works
Memoirs
Greek
Ascent of Cyrus
Education of Cyrus
Economic
Resources
Of Ipparchus
On riding
Of Hunting
Symposium
Apology of Socrates
Ieron
Letters
Republic of Athenians
Republic of Spartans
Agesilaus