MENANDER

Athens, 324 - 291 B.C.
MANY THINGS QUICKLY SUBJECT THEMSELVES TO NECESSITY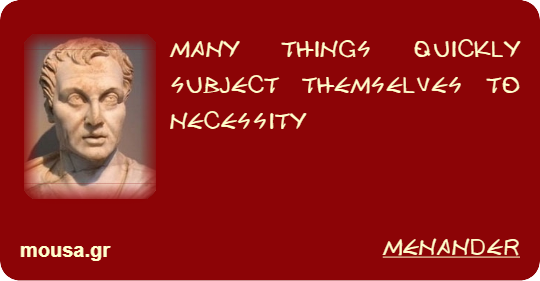 Copy and paste the following code:
Athenian comedian. The best of the so-called "Attic school". He was the nephew of the also famous comedian Alexios, and a student of Theophrastus. His first play "Wrath" was performed in 324, and in 316)5 he won the theatrical competitions. Since then he has won seven more. He wrote more than 100 comedies, of which only fragments have survived and some were written on papyrus. Plautus and other Romans imitated him or even presented paraphrased works of his as their own. Later, other works of his were found in papyri, works of a smaller extent, which were discovered, studied and presented, in recent years, mainly by German hellenistic philosophers. A comedy of his, "Dyskolos", was recently discovered and presented in Athens a few years ago.