HERACLITUS

Ephessus, approx. 540 - approx. 475 B.C.
FORGIVENESS IS SUPERIOR TO PUNISHMENT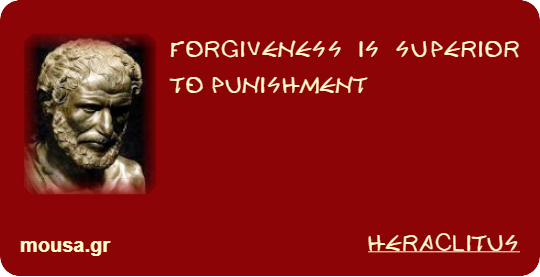 Copy and paste the following code:
One of the younger Ionian physiologists, who because of the obscurity of his style was called Dark, and in contrast to the laughing Democritus, Laeon. He took part in the political struggles of his homeland always on the side of the aristocrats. His aristocracy even reached the point where he bitterly hated the "City" and those who were on the side of the people. This contempt of his was directed against many of his contemporaries and more ancient philosophers. Despite all this, he is considered as one of the most profound philosophers of antiquity, the modern world, with the development of physical and mathematical science, considers him, together with Democritus, a forerunner of the natural sciences and of our current age.
Heraclitus, in contrast to the Eleatic philosophers who had established the immobility of being, declared that eternal becoming and changing and never remaining the same. Every birth, according to Heraclitus, is a product of those elements of nature that are in constant struggle and opposition. Harmony is born from the struggle of the elements. Without this "competition", as he calls it, there would be no life. That is why he glorifies the war of the elements as the father of everything, and fire as their motive. Excess heat means excess movement and consciousness. Excess of cold means immobility and deadness. Our age has shed enough light on the dark theories of the Ephesian philosopher.