HERILLUS

Carthage, 3rd century B.C.
THE ULTIMATE GOAL IS KNOWLEDGE, THAT IS TO LIVE IN A WAY THAT KNOWLEDGE IS THE GOAL AND IGNORANCE HAS NOTHING TO DO WITH HIM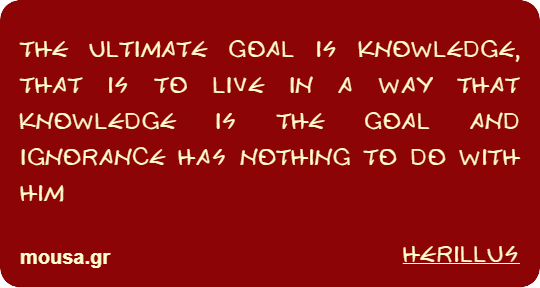 Copy and paste the following code:
Stoic philosopher from Carthage who lived in the middle of the 3rd century BC, student of Zeno of Citium and founder of a philosophical sect, whose followers were called Hirillei. The Stoic teaching of Zeno accepted that the destiny of the wise is the acquisition of science, which is the highest good. Herillus adds a second purpose (hypotelis), which could be accessible to the unwise as well. This is the external goods of material nature, which however attribute the concept of good. Diogenes Laertius lists twelve of his works in which Herillus refutes Zeno's teaching. And Cicero considered science as the highest good, while material goods were a related and subordinate purpose to the first. He characterized the situation between virtue and vice as indifferent.