CLEANTHES

Assos, 331 - 250 B.C.
BAD PEOPLE CAN BECOME GOOD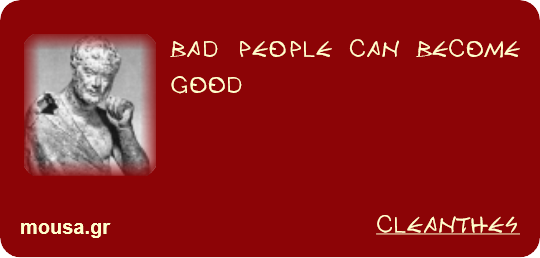 Copy and paste the following code:
Stoic philosopher and successor of Zeno in the scholarchy of the Stoa. He came from Assos of Troas. According to tradition, he was a boxer, and when he arrived in Athens, his entire fortune was 4 drachmas. He devoted himself zealously to philosophical studies. In order to be able to listen to Zeno's lessons, he drew water and watered the gardens all night. For this reason he was playfully called "freandli" to secure his bread he grind the wheat in the stone hand mill of an oven. He was extremely strong, and lived with the strictest austerity, like his teacher Zeno.
Although a foreigner and of unknown origin, he won the respect and esteem of the Athenians by his virtue and his asceticism. He was especially valued by Zeno, who considered him as his most faithful and virtuous student. To those who teased him, and this happened often, he answered with composure, readiness, kindness and grace. It is said that his classmates called him "donkey". "Yes, he answered, so perhaps I am the only one who can carry Zeno's burden." For nineteen full years he studied in the Stoic school, and when its leader died, he was judged as the only one worthy to succeed Zeno in the scholarchy, a position he held until his death. His teaching was not so luring, because while he was excellent in written speech, he was somewhat disadvantaged in oral speech.
His memory was so respected that the Romans, after his death, erected the statue of Cleanthes in his birthplace of Assos. His wonderful hymn to Zeus, which has survived in its entirety, as well as excerpts from various of his philosophical poems, show that he did not lack poetic gifts. He also had a lively performance in music. He died at a very old age, at the age of 99.