EUENUS

Paros, 5th century B.C.
IT IS A SERIOUS EVIL THAT ANYONE DARE TO PLAY THE WISE, BECAUSE IF THEY ARE NOT REALLY SUCH, THEY WILL BRING ONLY DAMAGE AND EVIL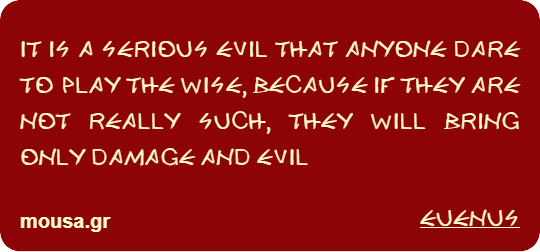 Copy and paste the following code:
Sophist and elegiac poet from Paros, 5th century BC. Plato and Aristotle often mention by this name a sophist who was also a poet, and especially a poet of elegies. In the fragments that have survived only from his work, it appears that Evinos cultivated the advanced form of ancient elegy, that is, his poetry had a close relationship with sophistic prose. He probably died shortly after the death of Socrates.