CRATES THE CYNIC

Thebes, 4th century B.C.
LOVE IS STOPPED BY HUNGER, ELSE TIME. IF NONE OF THESE APPLIES, THEN THE ROPE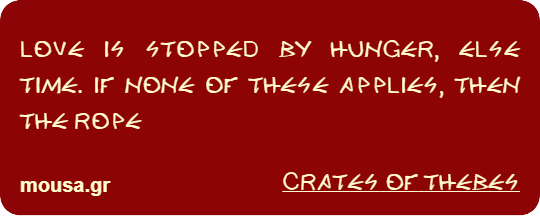 Copy and paste the following code:
Famous Cynic philosopher, son of Askondas, student of Diogenes, whom he constantly followed. He flourished around 330 BC. His family was rich, but he himself lived poor, because, according to some, he distributed his wealth to the poor, according to others, he threw his money into the sea, while there is also a tradition that he deposited it with a banker on the condition that he would hand it over to his children only if they do not become philosophers, otherwise to distribute them to the people.
Crates believed that philosophers do not need money. Although he was ugly and hunchbacked, Hipparchis, who came from a noble family in Thrace, fell in love with him. Her brother Hipparchidos Mitrocles, initially a student of Xenocrates and Theophrastus, became a Cynic thanks to Crates and the arguments he developed for him. Thus he presented to his sister the image of his new teacher so vividly that she fell in love with him and wanted to marry him, on the condition that she follow his life. Crates, getting married, performed an act inconsistent with Cynic teaching, and called his marriage "cynogamy".
The anecdotes related to Crates are many. In his attempt to agree with the doctrines of Cynic philosophy, he considered marriage as a relationship that does not hinder independence, since it is entered into by free individuals. He used to enter houses uninvited, which is why he got the nickname "Thyrepanoktis". When Demetrius the Falireus was banished, Crates consoled him so amicably that the former cursed his former way of life which prevented him from meeting such a man. He wrote works that bear the brief title of Plays and are mainly moral in nature.