ZENO OF ELEA

Elea, 490 - 430 B.C.
THERE ARE WORLDS AND THERE IS NO VOID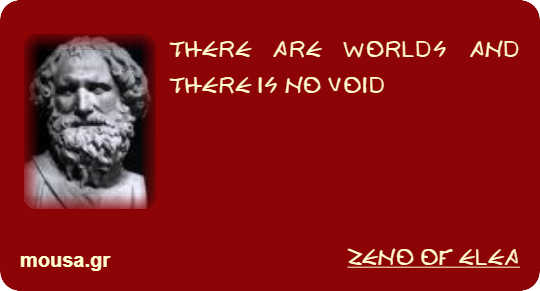 Copy and paste the following code:
Greek philosopher of the Eleatic School, student of Parmenides. He believed and fanatically taught that all motion is only apparent, since it can have no beginning, and no body can arrive anywhere, before first passing through an infinite number of intermediate positions. Also, movement, according to Zeno, cannot be terminated, and every movement is relative. Aristotle, Hegel, Ervart dealt with Zeno's proofs. Because of these important but also contradictory theories of his, Aristotle called him the "inventor of dialectics". By order of the tyrant Eleas Nearchus, he was sentenced to martyrdom, and was beaten in a mortar, after similar horrible tortures, and this, because the sage tried to free the Eleans from the tyranny of Nearchus.