EPICTETUS

Hierapolis, Phrygia, 50 - 120 A.D.
LOVE TOWARDS PEOPLE IS A DUTY, SINCE WE ARE ALL CHILDREN OF ONE GOD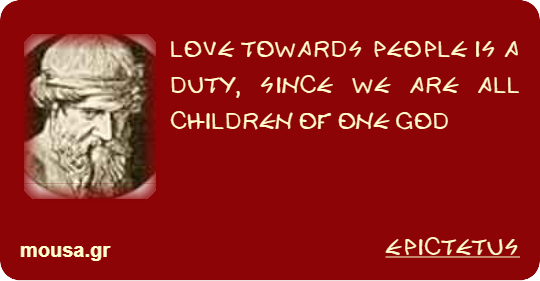 Copy and paste the following code:
Greek Stoic philosopher. He was born in Hierapolis, Phrygia. He was a contemporary of Nero and Trajan, and he was a slave of Epaphroditus, and he lived at the beginning as a slave in Rome, where he listened to the lessons of the Stoic philosopher Musonius.
His calmness and stoicism were proverbial. It is said that his master, to test the apathy of Epictetus, cut the flesh of his shin with a sharp instrument. Then the slave philosopher turned and said impassively to his tormentor: "you will break her." And when, indeed, he broke his bone, Epictetus added: "I told you so." Since then he has been lame.
He was released by redemption and became a teacher of philosophy in Rome, from where he was expelled around 90 AD, following an order of Domitian. He retired to Nicopolis in Epirus and there gathered his numerous disciples, who had flocked from Rome, and continued his teaching, admired for his simplicity and extreme austerity.
Epictetus was one of the most faithful interpreters of pure Stoicism.