PERICLES

Athens, approx. 495 - 429 B.C.
ANYWHERE ON EARTH CAN BE A GRAVE FOR IMPORTANT MEN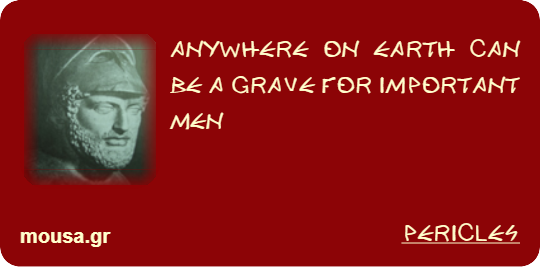 Copy and paste the following code:
The most eminent political man of ancient Athens, a supporter of democracy. He was born in 490 and died in 429 BC. As leader of the democratic faction he ruled from 443 continuously until his death. He received a great education and had as teachers Zeno the Eleatic, the musician Damon and the philosopher Anaxagoras, who greatly influenced Pericles' morals and manners.
He was an exemplary general and governor and an orator who knew how to fascinate and captivate crowds with his speech. Thucydides gives us an example of the beauty of Pericles' speech in the famous "Epitaph of Pericles". During his days, and after glorious or unfortunate wars ended, the city was rebuilt and the army and administration were reorganized. He decorated Athens with new buildings, among which the Parthenon, the Propylaia etc., carried out democratic political and social reforms, protected the Letters and the arts and built the long walls to protect the city. Implemented special remuneration of citizens for their services to the state,
Pericles combined a rare education with the greatest elegance as evidenced by his works and his friendship with leading artists, poets and philosophers (Anaxagoras, Sophocles, Pheidias) as well as his connection with the highly cultivated and beautiful Aspasia, who became his second wife. Under Pericles, Athenian trade rose to its peak and expanded, as evidenced by texts, vase paintings and coins, from the East and Black Sea to the West. Because of his calm character and the enforcement of his word, Pericles was likened to "Olympian Zeus", who gave the city of Athens a whole "Golden Age". The sculptor Chrysilas created an idealistic figure of Pericles in bronze, copies of which are in the British Museum, the Berlin Museum and the Vatican Museum.