MELEAGROS

Syria, 2nd - beg. of 1st century B.C.
THE GREAT MAN DOES NOTHING IMPROPER, NOT BECAUSE OF THE PUNISHMENT AND BAD REPUTATION HE WILL RECEIVE, BUT BECAUSE HE IS WISE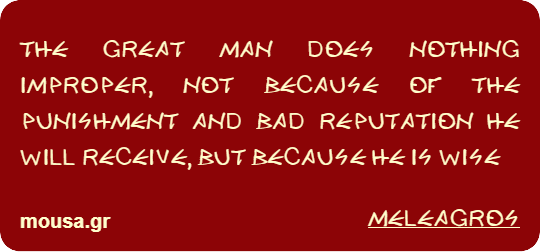 Copy and paste the following code:
Epigraph maker. Its heyday is placed at the end of the 2nd century and the beginning of the 1st century BC. In Kos, where he settled in 80 BC, he collected poems by various poets and compiled a kind of anthology which he called Crown of flowers, because he compared each poet to a certain flower. For the most part the poems are included in the Palatine Anthology . In his first works (Peri doxon, Symposium, Charites) Meleager developed in a playful style the philosophical principles of the Cynic Menippus. He also wrote love lyrics entitled Paedika .