SOPHOCLES

Athens, 496 - 406 B.C.
WHATEVER MAN'S ACHIEVEMENTS IN THE FUTURE, HE WILL NOT FIND A WAY TO AVOID DEATH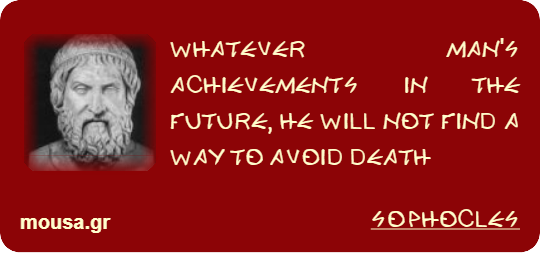 Copy and paste the following code:
The second of the three great tragedians of the 5th century, and one of the most famous the world has seen. Son of Sophillos, he was born in the Attic municipality of Kolonos in 496 BC, in a wealthy family. He was well-educated and excelled in music and gymnastics competitions as a child. During the epics, after the naval battle of Salamis, Sophocles, holding a lyre, played in front of the procession. He was so well taught in music that he composed the choruses of his tragedies himself. He was taught tragedy by Aeschylus, only to defeat his teacher, with his first appearance as a dramatic poet in the fight of 468, with the tetralogy of "Triptolemus", and with Cimon and his co-generals as judges. For ten years, these two great tragedians dominated the theater. Sophocles was interested in political matters and was honored by the Athenians, and in fact, after the presentation of "Antigone", they elected him general in the war against the Samians (441 - 439). Pericles sent him to Lesvos and Chios, where he met the poet Iona. At this time he became friends with Herodotus, whose historical work he seems to have studied. In 443/2 he was honored with other positions, even priestly. He founded the sanctuary of Menitus Heracleus and wrote and set to music a paean to Asclepius. Being a friend of the Athenian people and a liberal, he never came to the Court of a tyrant or a king like Aeschylus, Euripides, Agathon, etc.

In his private life Sophocles was full of compliments, graceful and a friend of love. From Anemostat's wife he had a son, Iophontas, who, as is said, fled to the court to request that his father be placed under restrain, "as mentally unstable". He died at the age of 90 in the autumn of 406. Euripides had died a little earlier, whom Sophocles mourned, wearing a gray robe and leaving the actors and dance unadorned in his performances. He was buried in the paternal tomb, which was on the road to Decelia and a siren was placed on his grave. Paying homage, the municipality, by its resolution, determined that a sacrifice should be offered every year to the man's virtue. The great statue of the poet was erected in the theater of Dionysos, at the suggestion of the orator Lycurgus, a copy of this is the marble statue that is in the Lateran Museum in Rome. According to the grammarian Aristophanes of Byzantium, Sophocles wrote 123 dramas, including elegies and paeans. And in dramatic contests he won more victories than both Aeschylus and Euripides. Only seven of his tragedies have survived.

Works
Philoctetes
Antigone
Electra
Trachineae
Aeas
Oedipus Rex
Oedipus in Colono