THEODORUS

Athens, 340 - approx. 250 B.C.
THE IMPORTANT ONES SHOULD NOT SACRIFICE FOR THE COUNTRY, BECAUSE THERE IS NO REASON TO DESTROY WISDOM TO BENEFIT THE IGNORANT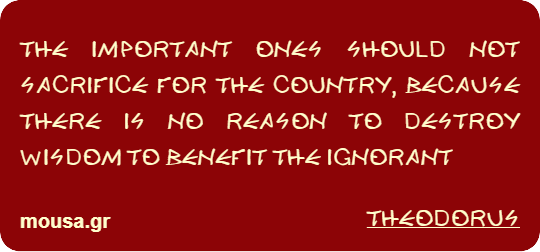 Copy and paste the following code:
Athenian from the municipality of Erchia. Father of the orator Isocrates, builder of courtyards. Aristophanes and Stratis ironically mention Theodore's profession to belittle Isocrates, while Dionysius of Halicarnassus mentions that he was an average citizen who had "made courts". In any case, however, Theodore was quite well-to-do, so he undertook sponsorships and educated his children in an excellent way. But later, around 413 BC, he lost his fortune and almost at the same time he died. In addition to Isocrates, he had 3 more sons: Theodore, Telesippos, and Dimnestos.