PYTHAGORAS

Samos, 6th century B.C.
DON'T DO NOR SAY ANYTHING WHEN YOU ARE ANGRY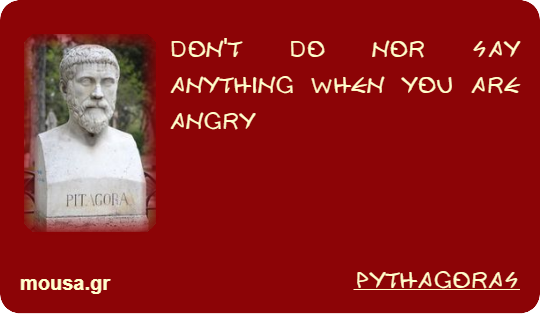 Copy and paste the following code:
Great sage of antiquity, the founder of the so-called Italian Pythagorean School. He was born in Samos and was the son of Mnisarchos the typist and the beautiful Pythaides. On the recommendation of the Samian tyrant Polycrates, he went to Egypt near Amasin. He stayed there, learned the language of the Egyptians, was introduced to the Egyptian sanctums and studied their Bibles. Then he went to Crete and together with Epimenides descended to the Idaion antron. He had Pherekydis, in Lesbos, and Anaximander, in Miletus, as his teacher. Returning to Samos and wanting to spread his knowledge, he was neither understood nor believed. For this reason he went to Sicily, where he was kindly received by various Italian cities. Particularly in Krotons, where he was a bridegroom, he founded the first company and initiated his first students.
The purpose of the Pythagorean movement was to create wise and virtuous men who could take over the governance of cities. The alarmed opponents of Pythagoras, led by the noble and wealthy Cylons, managed to break up the company with slander and kill or disperse its members. Pythagoras fled to Metapontium, where he later died. In general, his life and teaching are surrounded by legends. However, it consisted of various degrees of initiations, the first of which were harsh discipline and silence. The school was inaccessible to the sacrilege and the knowledge was the exclusive property of the mystics, who in no way were to write down or spread orally the secrets taught, which were mainly mathematics.
Pythagoras attributed metaphysical properties to numbers, saying that they, the numbers, govern the movements of the stars and that they occupy a certain place in Space. The Pythagoreans worked with significant results in Geometry as well.