PLATO

Athens, 429 - 345 B.C.
IDEAS EXIST IN NATURE AS PATTERNS AND ALL OTHERS LOOK LIKE THEM AND ARE SIMILAR TO THEM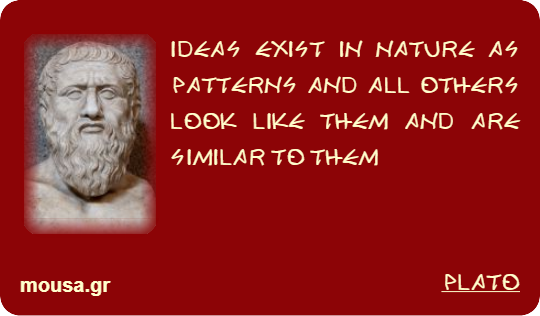 Copy and paste the following code:
Philosopher. He was born in Athens of noble parents. His first name was Aristocles, and he was called Plato, because of the breadth of his chest and forehead. He took up poetry as a young man, but quickly devoted himself definitively to philosophy. At the age of twenty, he became attached to Socrates and stayed with him for nine years. His love for him has no equal in history of the devotion of a pupil to a teacher. He made several trips to Egypt, Cyrene, Sicily, Asia Minor to meet many philosophers of the Pythagorean school, in particular.
In Syracuse, he became friends with the tyrant Dionysius and his relatives. Later, because he had displeased the tyrant by his impudence, he, in revenge, sold him to the Spartan ambassador as a slave, to be ransomed by the philosopher Annicerios. After returning to Athens, forty years old, he founded a regular school, the so-called Academy, which took its name from the place where it was dedicated to the hero Akadimos. In his Academy, Plato taught for 42 years, and his students formed a kind of scientific association, which was maintained until 525 AD. He died in Athens at the age of 81, on his birthday. His tomb, in Kerameikos, was preserved until the years of Pausanias. He wrote the "Apology" of Socrates, whose philosophy he exposes, completes, systematizes and praises.
Platonic philosophy deals with the nature of the "sensible" and "supersensible" world, and is the first universal system in history. The influence of this system on the later world was incalculable.
Works
Apology of Socrates
Symposium
Laws
Republic
Phaedrus
Timo
Critias
Theaetetus
Protagoras
Gorgias
Sophist
Political
Philevus
Parmenides
Cratelus
Phaedo
Eythedemus
Menexenus
Laches
Lysis
Alceviades
Lovers
Eythyphro
Crito
Ion
Hippias major
Hippias minor
Hipparchus
Theages
Charmides
Meno
Cleitophon
Mino
Epinomis
Terms
Adulterated
Letters