LEUCIPPUS

Abdera, 5th century B.C.
AS THE BIRTHS OF THE WORLD, SO INCREASES, DECLINES, AND DESTRUCTIONS HAPPEN ACCORDING TO SOME NECESSITY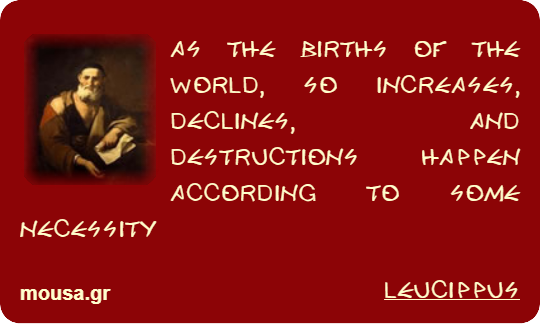 Copy and paste the following code:
Greek philosopher of the second half of the 5th century BC, who assumed, according to the medical philosopher Galen (2nd century AD), the "existence of indivisables" and thus became the proponent and creator of the theory of atoms in the first phase of its development, and elaborated later by the student of Leucippus Democritus up to Epicurus, the Stoic philosophers and Lucretius. Leucippus was born in Miletus, flourished in 440/430 BC and was a student of Zeno from Elea.

Leucippus did not associate necessity with movement. Leucippus, like Plato, accepts the existence of constant and unchanging energy as action and reaction, birth and decay, from which the movement of atoms and their combinations (shapes) (spheres, solids, angles, hook-like bulges) emanates.

Alongside the uniform, qualitatively indivisible and without internal change mode of existence, he considered that continuous organized movement is a natural and primary characteristic of things that interprets their internal action. He considered movement as a way of existence of the "vacuum".