HOMER

Asia Minor, approx. 850 B.C.
THE GODS ORDAINED FOR UNHAPPY MORTALS TO LIVE BITTERLY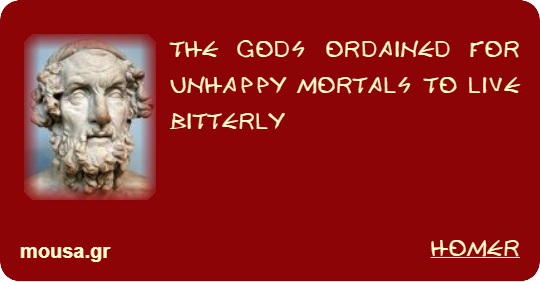 Copy and paste the following code:
The most famous and oldest epic Greek poet, known to all mankind. According to one tradition he was born in Smyrna, according to another in Chios. Many cities claim its birth. About his life only mythical traditions are known. He lived in the ninth century BC and roamed the Greek cities like a rhapsode. He is said to have been blind. He died on the Cycladic island of Ios.
Aristotle attributes to him, in addition to the "Iliad" and the "Odyssey", the comic epic "Margaritis". The epics were recorded and received their final form in the 6th century BC. However, they present differences between them which made researchers question the authorship of both works by Homer. This is how the so-called "Homeric issue" was created, which preoccupied and continues to preoccupy philologists all over the world. This does not diminish the value of the poems nor the poet. The general perception that prevails today is that the epics, in their current composition, are the fruit of a long evolution, and Homer is considered the greatest poet of the ages and the patriarch of ancient Greek poetry.