ANACHARSIS

Scythia, 589 B.C.
THE ENEMY OF HUMANS IS THEMSELVES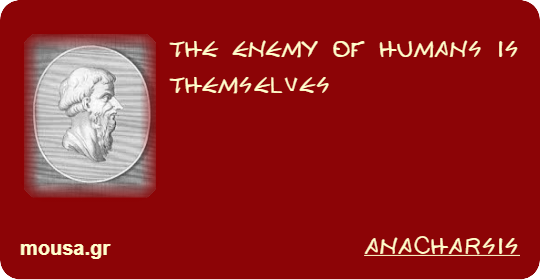 Copy and paste the following code:
Scythian of royal descent. Driven by a burning thirst for knowledge, he descended into Greece and visited Athens, to befriend Solon, and Corinth, to associate with Periander. Herodotus says of him, that while sailing to Cyzicus he saw a ceremony in honor of Demeter, and immediately vowed to transfer the worship of the goddess to his homeland.
But when, returning to Scythia, he attempted to fulfill his oath, his brother Saul killed him. Anacharsis quickly became a household name in Greece, and he was ranked among the Seven Wise Men. Croesus called him to Sardis. Many Greeks (Diogenes Laertius, Lucian, etc.) dealt with his quotes, and admired his sharpness, the cheerfulness of his thinking and his acute perception of Greek things. Of his letters, nine in number, the fifth was translated by Cicero.