ALKEUS

Mytilene, 7th century B.C.
WE DON'T GAIN ANYTHING BY LAMENTING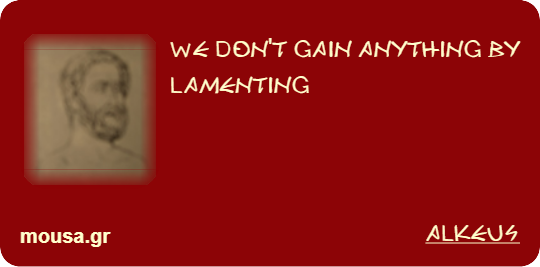 Copy and paste the following code:
Alkaios from Mytilene is - together with Sappho - the most important representative of Aeolian lyric poetry. His life and work are directly linked to the political events of his time. He belongs to the very few poets, whose whole personality and the details of their lives are inextricably linked with the political climate and the various social and political activities of their time.

The dating of Alkaios can only be determined by its relation to historical events and well-known persons, who played an important role in the political disturbances and various political rearrangements of Mytilene. Alkaios belongs to a critical historical period, with strong contrasts and decisive political activities. He himself took part in them: he acted and suffered. His life includes: struggles against tyranny, conspiracies, exiles, returns to the homeland and strong political positions. It is precisely during that time that tyranny appears, flourishes and is fought. Upheavals, murders, exiles, wars, political and social conflicts characterize Alkaios' era, which is also reflected in his poetry.

From the ancient testimonies it appears that Alkaios - who belonged, of course, to an aristocratic family - was a contemporary of Sapphos, a little younger than her, and was born in the decade 630 - 620 BC.

Alkaios occupies the second place in the "canon" of the 9 Lyrics. His poetic work was published by the Alexandrians in 10 (at least) books - from Aristophanes the Byzantium and Aristarchus.