XENOPHANES

Colophon, 6th century B.C.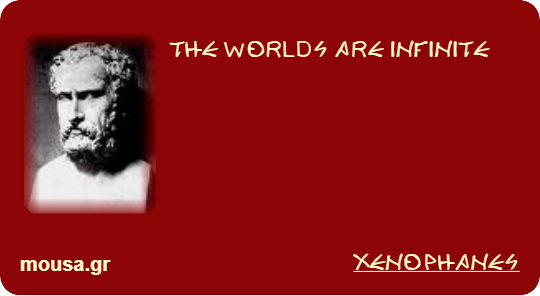 Copy and paste the following code:
Ancient Greek philosopher founder of the Eleatic school. He was born on the third or the fourth decade of the 6th century BC in Colophon. When the Persians conquered Ionia, in 546, he emigrated and for many years roamed the Greek cities as a poet and rhapsode, finally settling in Elea, a colony founded in Greater Greece by the refugees from Ionia. His philosophical work was destroyed, and we only know what he believed from some remains of his work "On Nature", a didactic epic, and the testimonies of Aristotle, Theophrastus et al. Xenophanes, transferring philosophy from the East to the West, gave it a purely religious aspect, bold critic of the polytheistic religion of the Greeks, raised his voice against it, and attacked with vigor the superstitions and moral laws of Greek mythology.
Xenophanes was chiefly indignant and vexed for the reason that Mythology had fashioned a multitude of gods in human form, with all the passions and defects of mortals. That God is one and he is all omma, all ear, all mind, and reins aimlessly with his own intellect. Being unchanging and immovable, he has no need to migrate from place to place to carry out his will. He is ubiquitous. This one deity of Xenophanes harmonizes with the Universe, so his monotheism is at the same time pantheism.