THE BRILLIANT GLORY AND THE NAME OF THE MAN HARVESTED BY THE IMPETUOUS ARES IS NEVER LOST WHILE COURAGEOUSLY HE STAYS IN HIS PLACE AND IS FIGHTING FOR HIS COUNTRY AND HIS CHILDREN HOWEVER, EVEN IF HE IS DEAD HE REMAINS IMMORTAL.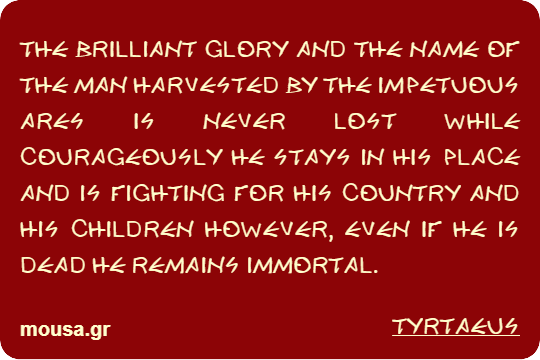 Copy and paste the following code:
Elegiac poet, son of Archembrotus. He lived during the first half of the 7th century BC and is mentioned by Souda as a contemporary or even older of the seven sages. Regarding his origin, some argue that he was an Athenian general who was sent to Sparta to help the Lacedaemonians in the war against the Messenians (II Messeniacus), in fulfillment of an oracle that the former had taken from the oracle of Delphi, while others that he came from Sparta.
Tyrtaios wrote elegies, the most famous being the Eunomia, thanks to which he managed to unite the Lacedaemonians and encourage them in their attempt to recapture their lost lands. In the same spirit, but in a Doric dialect and in a non-repentant measure, were written the Meli polemistriae, war hymns sung by the Spartans when they marched against the enemy. He also wrote the History of the First Messenian War . Tyrtaios is mentioned by Vilamovits-Mellendorff in the History of Greek Lyricists .