PYRRHO

Elis, approx.360 - 270 B.C.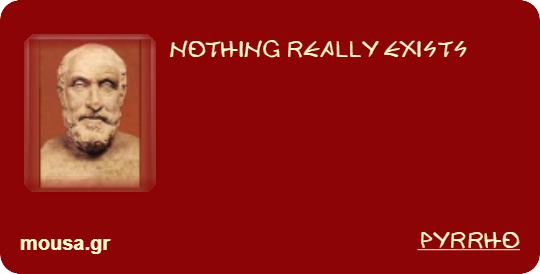 Copy and paste the following code:
The founder par excellence of the oldest sect of the Skeptics and a contemporary of the Stoic Zeno, as well as Epicurus (360-270 BC). The development, as well as the presentation of Pyrrho's teaching as such, are very difficult undertakings, because Pyrrho left no writings. In addition, the collection of information about his teaching was done by his students and, in particular, Timo and Phliasius (320-230 BC), who was considered the most important of them. Pyrrho made the problem of knowledge the center of his teaching, which possibly served the ultimate goals of the philosopher's ethics.
Therefore, according to evidence that Aristotle saved (in Eusebius the Pamphilus) "and his disciple Timon sees the future happiness in three ways: firstly, what things have become, and secondly, what good way we have to deal with them , and finally, what happens to those who already have it".
This passage has an epistemological character, because it contains the way of looking at things, that is, the knowledge and understanding of them is sought. So, according to Pyrrho, there are three ways in which we should examine a thing.