PROTAGORAS

Abdera, 480 -┬ι410 B.C.
THE SOUL IS NOTHING WITHOUT THE SENSES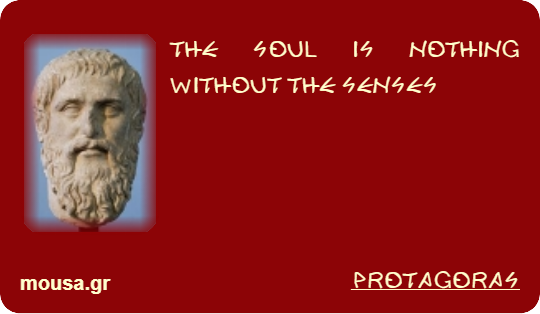 Copy and paste the following code:
Famous sophist. He was born in Abdera, around 480 BC. His original occupation was a porter. Democritus discovered him, took him to him, and made him his secretary and pupil. He toured various Greek cities, as well as Lower Italy, as a teacher of rhetoric. He was associated with Pericles and Euripides and was highly honored in Athens. But then he was accused of atheism and they arranged for him to escape at night. His books were publicly burned in the marketplace. Going to Sicily he was drowned while washing at the age of about seventy.
Protagoras, like Heraclitus, believed in the eternal flow of beings in the universe. Man knows things not as they are, but as they appear to his senses. According to Protagoras there are no valid truths, and what seems true to one may seem false to another. For every thing there are two opposing versions. Virtue he still considered simply as a good habit, which prepares a better mental disposition and urges people to action. About the existence of the gods, Protagoras said: "I know nothing, because they prevent me from knowing the darkness of the thing and the shortness of human life". His main work was "On Truth".