PINDARUS

Boeotia, 522/518 - 438 B.C.
BE A CHILD WITH CHILDREN, A MAN WITH MEN, AN OLD MAN WITH THE ELDERLY, AND TO BE ADAPTABLE TO ALL AGES OF LIFE, THIS IS THE TALENT OF THE SAGE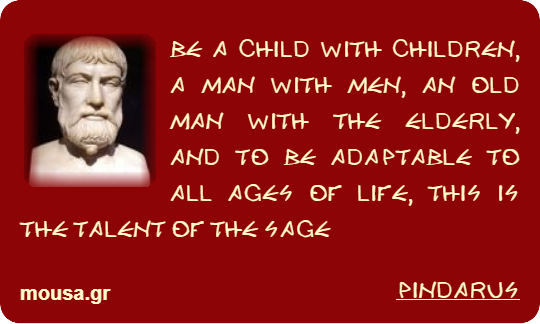 Copy and paste the following code:
The greatest lyric poet of ancient Greece. He was born in 522 BC in Kynos Kefales of Thebes and was the son of Daifandus and Cleodiki. He had as teachers, in music, the Athenian Agathoklea and Apollodorus, and in poetic art, Myrtis. He considered the poetess Corinna as a competitor, and it is said that she defeated him in a competition. Twenty years old he made his appearance as a poet in public.
The great exploits of the Greeks against the Persians strangely did not move him spiritually, like they did for Aeschylus and Simonides. Later, however, he praised the brilliant services of the Athenians throughout Greece, and the Athenians honored him and gave him the sum of a thousand drachmas. The poet's fame quickly spread, to receive the designation of the national poet, like Simonides. The great Panhellenic competitions, which he used to attend, and thanks to which he entered into relations with the noble houses of all the cities, contributed to this. Many times he even accompanied the winning athletes to their homeland, in order to lead the victory procession there himself.
Pindar's native Boeotia was considered a proverbial symbol of narrow localism, provincialism and backward ideas. Nothing of the shocking events of the time affected the Thebans, who were hostile to any new spirit and still believed that their origin was traced back to the gods and that the people were something worthy of contempt. Raised with such traditions, the landowners indulged in spectacles, contests, entertainments and ceremonies. Virtue for them was physical strength, beauty, wealth. All this certainly shaped the character of the poet. That is why, above all, the brilliant events found in Pindar the most suitable hymn writer.
He visited Sicily, was entertained at the Court of Hiero, and sang of the majestic eruption of Etna in 472. He always had close relations with the Priesthood and especially with the priests of Delphi, whose wisdom he extolled in his hymns. Pindar died in old age, probably in 448, in Argos and, it is said, in the theater and in the arms of his beloved Theoxenus. In Thebes, where his bones were moved, the inhabitants, until the time of Pausanias, proudly displayed the tomb of their poet, as well as the ruins of his house, which alone was spared by Alexander from the general destruction of the city.
Pindar's muse glorified gods, heroes and athletes, with euphemisms, praises and lamentations. Ancient grammarians collected and classified his poetry into 17 books. Of these, however, only the epinicia survived, a few fragments of a dithyramb on the eclipse of the sun in 463, and two graceful songs about the prostitutes of Corinth and the handsome Theoxenos.