PHOCYLIDES

Miletus, 6th century B.C.
NOR DOES THE EARTH ENVY THE HEAVEN, NOR THE RIVER THE SEA. EVERYTHING IS ALWAYS UNDER A UNIFIED VIEW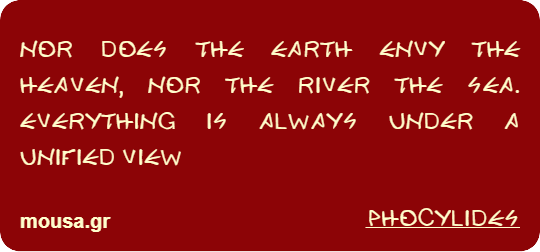 Copy and paste the following code:
Poet of maxims from Miletus, who flourished in 537 BC. Together with his contemporary Demodocus, from Leros, also a poet, they teased each other with verses. He wrote moral rules in hexameters and couplets that always began with the three words: "And then Phokideo". A large didactic Poem of 200 hexameters, which survived in its entirety and is called "Focylidea", does not belong to him, but to an alexandrian judean, a synonym of the poet, who lived between the 2nd century BC and Nero's empire.