PHILOSTRATUS

Athens, 170 B.C. - 244-249 A.D.
OF ALL THE EVENTS IN THE OLYMPIC GAMES, THE BEST FOR MEN IS THE PANKRATION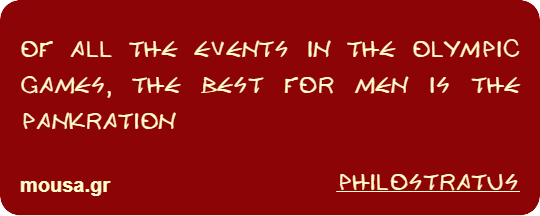 Copy and paste the following code:
Son of Uiros, he was born around 170 AD. and died during the reign of the Roman emperor Philip the Arab (244 - 249). He studied in Athens, lived near the Roman emperor Septimius Severus, in Rome, and later returned to Athens, where he died.
Works
To Appolonius Tyaneus
Letters of Appolonius Tyaneus
Lives of Sophists
Heroic
Nero
Images of Philostratus
Images of Philostratus the younger
Gymnastic
Letters