PHILIPPIDES

Athens, 4th century B.C.
YOU MARRIED A DESPICABLE WOMAN, BUT RICH. NOW YOU CAN EAT AND SLEEP WITHOUT END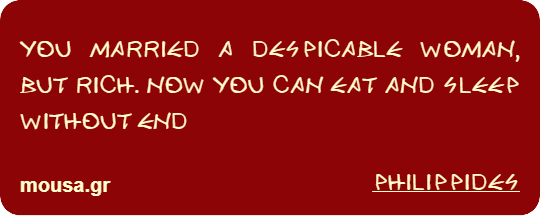 Copy and paste the following code:
Son of Philokleus, from the municipality of Kefalis, one of the most prominent poets of the New Comedy. He distinguished himself in the Dionysia in 311 BC and many times in Linaia. According to the dictionary Souda wrote 45 works, of which 15 titles and 39 excerpts have survived that Meineke has published in Fragmenta Comicorum Graecorum. Philippides was a friend and advisor to the Thracian king Lysimachus, whom he followed on many of his campaigns in Asia.