MIMNERMUS

Colophone, 2nd half of 7th century B.C.
THE GLORIOUS MAN, WHILE ALIVE, WE ALL ENVY HIM, AND ONLY WHEN DEAD DO WE PRAISE HIM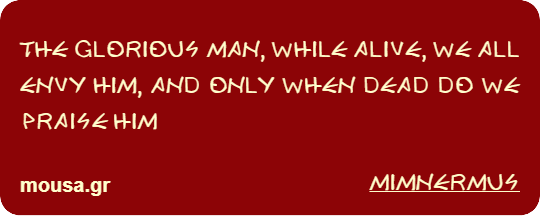 Copy and paste the following code:
Its heyday is placed by tradition in the 37th Olympiad (633-629 BC). He was considered a little earlier than the age of the seven sages or contemporary with it. It is said that Solon addressed some of his verses to him, that he probably met him during his journey in Asia Minor, and that he was somewhat younger than him. He is also said to have been a piper, which certainly suggests the close connection of his poetry with music and song. Only fragments of his work survive.
Mimnermus is the father of love elegy, a representative of that subjective poetry that expresses deep feelings in a purely personal tone. The joy of youth, a light melancholy about its short-lived pleasures, the fear of old age are the ideas that dominate at least half of his surviving verses. In particular, the anguish of old age has not been expressed by any other poet with such power and simplicity.
For his melancholy, moreover, critique has repeatedly wondered whether it was due to the political events of his time and the miseries of his country. From his lyrics, however, there is no evidence that could support this hypothesis.
In addition to love, Mimnermus seems to have dealt with other subjects. His poem dedicated to Smyrna's war with the Lydians is mentioned. At its beginning, it was addressed to the Muses, distinguishing them into old daughters of Heaven and new daughters of Zeus. From this work probably comes a surviving passage in which he describes a dashing warrior of the Lydian war. In other passages he speaks of the founding of Smyrna and Colophon.
It is believed that the poems of Mimnermus, or at least some of them, were collected in a special collection, which bore the name Nanno as its title . Whether Nanno was a real person - the poet's beloved piper, who accompanied his poems with the piper - or simply symbolized an ideal mistress is not ascertained. Mimnermos was valued as a great craftsman of speech and of elegiac metre and for this reason he was included in the ancient Canon of elegiac poets along with Philitas and Callimachus.