LOUKIANOS

Samosata, 120 A.D. - after 180 A.D.
IF YOU'RE FAST WHEN EATING AND SLOW WHEN RUNNING, EAT WITH YOUR FEET AND RUN WITH YOUR MOUTH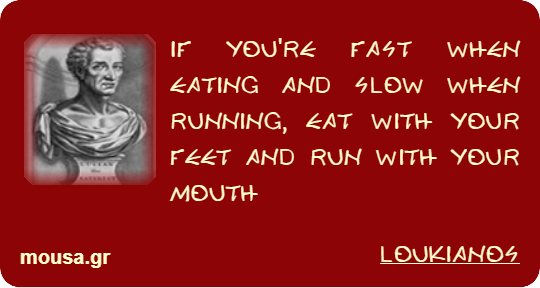 Copy and paste the following code:
Renowned sophist and writer. He was born in Samosata, that is why he is called Samosateus. Samosata belonged to the Syrian or Assyrian Country of Kimmageni, that is why he considered himself an Assyrian and dressed in the Assyrian fashion. He devoted himself to letters and wished to become an orator, which was then the pinnacle of education.
He learned the Greek language and rhetoric and became a lawyer in Antioch. But desiring fame and profit, he was later taught the sophistic rhetoric in Smyrna, and as a sophist began to display his art at festivals and fairs. He toured Asia Minor, Macedonia, and after staying long in Greece, passed into Italy to end up in Rome . After quickly recognizing the emptiness of the new profession, he renounced it, turning to philosophy, fascinated by the Platonists.
Because he was poor, he toured Gaul like a sophist, teaching and reciting, in order to acquire great wealth. After all this, he came back to Athens, where he philosophized and wrote his famous Dialogues. Lucian is reported to have written 82 works, many of which are considered pseudographies. His most beautiful works are the dialogical ones. In general, the cases of his writings attract for their variety.
With a keen eye, Lucian spread the faults of his contemporaries, the superstition, the parasitism, the pretense of the philosophers, the inexperience of the grammarians, things he stigmatized with laughable harangues and scathing remarks. A keen painter of human foibles, he sneers and mocks, not merely to make the reader laugh, but to teach, showing the luminous clarity and beauty of the Greek intellect, in comparison with the semi-barbarous mob of his contemporaries. He died in Alexandria.
Works
Phalaris
Hippias or Balaneion
Dionysus
hercules
On the electron or the swans
Eulogy of Myia
On the house
Eulogy of fatherland
On the dream that is the life of Lucian
Tyrannicide
Repudiated
Herodotus or Aeteion
Zeuxis or Antiochus
Armonides
Skythes or Proxenos
Trial of contracts
For the fault
On the dipsades
On not believing sycophants
On astrology
On sacrifices
On mourning
On the God of Syrians
Prometheus
Life of Demonactus
Nigrinus
Symposium
Vion
Fishermen
On parasite
Pseudosophist
Anacharses
Toxares
Images
For images
Ermotimus
Lexiphanes
Eunouch
Kataplous
Zeus in check
Zeus tragedy
Judgement of Gods
To Cronus
Dream
prometheus
Dialog to Hesiod
Gout
Menippus
Timon
Charon
Escapers
Twice charged
Friend of lies
On dancing
Dialogs of Gods
Dialogs in sea
Dialogs of the dead
Dialogs of prostitutes
Icaromenippus
Of true stories A,B
Ship
To the uneducated
On those who attend by payment
Apology
Long lived
Alexander
On Peregrine
How to write history
Tutor of orators
Pseudologic
Loucius
Cynic
Love of Country
Epigramms
Loves
Alcyon
Eulogy of Demosthenes
Ocypus
Charidemus