EUCLID OF ALEXANDRIA

approx. 323 - 285 B.C.
THERE IS NO ROYAL ROAD TO GEOMETRY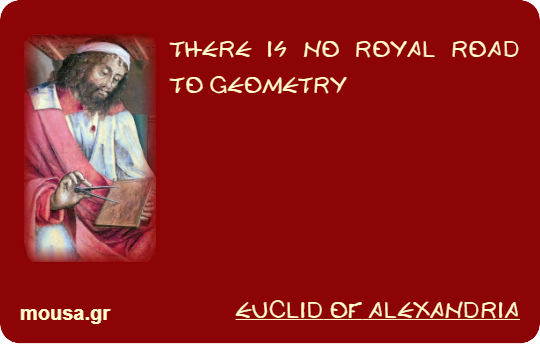 Copy and paste the following code:
Great Greek mathematician of antiquity. Older than Eratosthenes and Archimedes. It is unknown where and when he was born, nor who were his teachers, which is why he is often identified, in various publications, with the student of Socrates, the philosopher Euclid from Megara. According to Proclus, Euclid lived in the era of Ptolemy I (323 - 285 BC) and founded the famous Mathematical School of Alexandria. He is also the first founder of the "axioms". His monumental work "Elements". He also wrote "Harmonic Introduction", "Phenomena", "Optics", "Mirrors" etc.