HE WHO IS NOT ASHAMED OF HIMSELF, WHILE KNOWING ALL THE DIRTY DEEDS HE HAS DONE, HOW COULD HE BE ASHAMED OF ONE WHO KNOWS NOTHING ABOUT WHAT HE HAS DONE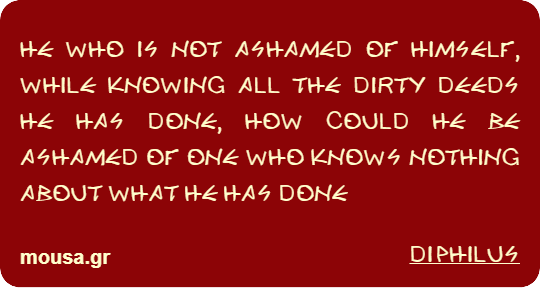 Copy and paste the following code:
Epic poet from whose work two choliambs survive. He seems to have written an epic entitled Theseis . Excerpts from his epic are perhaps those mentioned in Plutarch's Theseus. A Commentary on Pindar states: "... as Diphilos said, the poet of Thisis in iambus...". Another Commentary, on Aristophanes, states that Diphilus first composed an entire satirical poem against some Boides, which Eupolis and Aristophanes used as a model for their satirical poems against Socrates.