ARISTOTLE

Stageira, 384 - 322 B.C.
THE PASSIONS OF THE SOUL CORRUPT EVEN THESE EXCELLENT MEN WHEN THEY BECOME GOVERNORS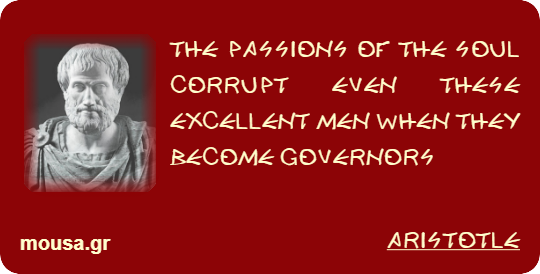 Copy and paste the following code:
Famous philosopher, the finisher of ancient Greek philosophy. He was born in Stageira, Macedonia. At the age of 18, he came to Athens and enrolled in Plato's School, the well-known Academy, with whom he studied for 20 years. During this time he studied Platonic philosophy, and laid the foundations of his own.

In 342, he was summoned by the Macedonian king Philip and took charge of the education of the thirteen-year-old Alexander, which was interrupted as soon as Alexander began to prepare for the campaign against the Persians. He returned to Athens (335), to find all the public places occupied by the various philosophers. For this reason, Aristotle began to philosophize with his friends while walking, which is why his School was called the Walking School and his followers walking philosophers. When his disciples became very fat, then he taught sitting and surrounded by them.

He organized his students according to the Platonic model. On the contrary, to the idealist Plato, he is the founder of positivism in Greek philosophy and created the sciences of Logic, Psychology, Rhetoric, Physics and Metaphysics. In his surviving writings there is a storehouse of knowledge that caused astonishment as to how it was possible for one man to be able to gather such a wealth of knowledge and assemble and organize it, alone, into a perfect system. For his unprecedented intelligence and his hard work, he was admired by generous kings and rulers of Greece and Asia, and first of all Alexander the Great.

Aristotle's genius aroused the envy of contemporary Athenian philosophers, who in various ways slandered and insulted him. Even his nephew Callisthenes, who accompanied Alexander on the campaign, accused the great philosopher to Alexander, and a whole conspiracy was woven against him, which supposedly turned against Alexander's life. Tired and disgusted by the war that had been waged against him, especially after the death of Alexander, by Athenian philosophers, Aristotle fled to Chalkida, where he had a country house, and died there self-exiled and embittered.

The dead body of the great philosopher was brought to his hometown of Stageira and his fellow citizens erected an altar, near which the authorities of the city went to gather. Furthermore, they defined an "Aristotelion festival", which was celebrated once a year, and in a month they named Aristotle. In Aristotle's testament, saved by Diogenes Laertius, the character of the Stagerite sage, which so many sought to tarnish, can be seen crystal clear: gratitude, charity, impartiality, piety, respect for the last wills of his departed relatives and provision for the survivors.
Works
Politics
Ethics Major
Economicous
On virtues and evils
Republic of Athenians - Fragments
Ethics Eudemeia
Ethics Nicomachean
Meta physics
Meteorological
The histories of animals
On parts of animals
On motion of animals
On path of animals
On genesis of animals
ORGANON 1 - Categories
On interpretation
ORGANON 2 - Locals
ORGANON 3 - On sophist arguments
ORGANON 4- Analytics prior
ORGANON 5 - Analytics posterior
Rhetoric
On sky
On birth and decay
On cosmos
Physics minor
Poetics
Minor
Problems
On soul
Physics
On spirit
Rhetoric to Alexander
Prompt essay