ANAXAGORAS

Klazomenes, 500 - 428 B.C.
THE MIND IS A BRAVE HERO WHO SUDDENLY ROSE AND ARRANGED EVERYTHING THAT WAS IN DISORDER EARLIER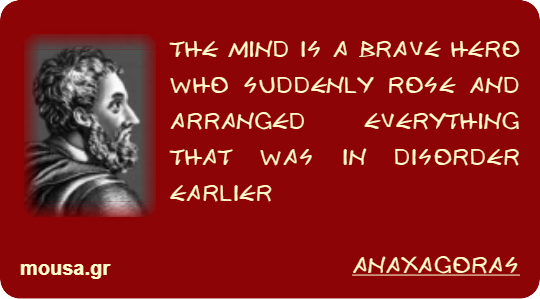 Copy and paste the following code:
Great sage of antiquity. Son of the rich and noble Egisivoulos. Anaxagoras transferred philosophy from Ionia to Athens, where he settled, to become intimate and a friend of Pericles, who also became his teacher. But he was accused of atheism by the opponents of the great politician, and was forced shortly before the outbreak of the Peloponnesian war to leave Athens and return to Ionia, where he founded a philosophical school, probably in Lampsacus. He died there, dealing mainly with mathematics, physics, astronomy and medicine.
Anaxagoras was the first to consider the question of squaring the circle. Unfortunately, few passages have been saved from his work "On Nature", in which the sage correctly describes the phenomenon of eclipses of the moon. Matter, according to Anaxagoras, cannot be reduced to a single element. There are many elements, not four, as Empedocles claimed. He first formulated the notion that the unformed and unmixed matter of the Universe was brought into order by a "Mind", who created unity and harmony.
Everything that exists in the Marcocosm also exists in the Microcosm. But each thing is felt according to the element that exists within it. He determined in an amazing way for his time the causes that cause the eclipses of the Sun and the Moon and with his cosmogonic theories he heralded the theories of Buffon, Laplace and Kant. Anaxagoras can be considered the forerunner of comparative physiology.