ANACREON

Teo of Ionia, 6th century B.C.
SINCE DEATH IS INEVITABLE, WHAT NEED DO I HAVE OF GOLD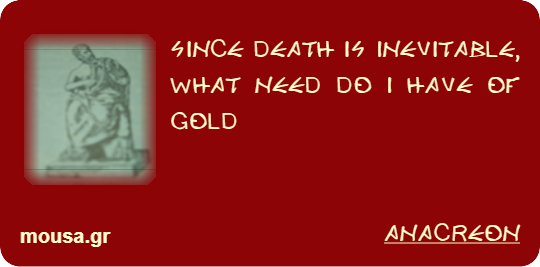 Copy and paste the following code:
Ancient Greek lyric poet son of Scythinus. He was born in 570 BC, around Teo (Ionia). When in 545 the city of Teos was conquered by the Persians, its inhabitants fled to Thrace, to settle in Abdera, which had been founded in 654 by other Ionian refugees, the Clazomenii. As a teenager, Anacreon was known as a poet, and in particular he had a reputation as a wit, reveler and lover, brought up as he was in Ionia in a time of prosperity and happiness.
Polycrates, the then flourishing tyrant of Samos, invited him, along with other poets to his Court, to quickly become the tyrant's favorite and confidant, for whom he wrote odes. The generous Polycrates had showered the poet with honors. It is said that when Polycrates, the poet, gave five talents to Anacreon for the first time, he stayed two nights without sleep, not knowing what to do with them, and at the same time worrying about losing this huge amount, until on the third day, in order to be saved from worries, returned them to the lord.
In 522 the Persians killed Polycrates. After the death of his powerful patron, Anacreon was summoned to Athens by Hipparchus, son of Peisistratus, who had inherited from his father a love of poetry. Anacreon brought to Athens his joyful song and his delicate, elegant and pain-relieving art, which dazzled the Athenians. He was associated with Pericles' father Xanthippos, Critias, Simonides Caius the poet, and others.
After the assassination of Hipparchus by Armodius and Aristogeiton (514), Anacreon fled to Thessaly, at the court of the Aleudas. It is said that, in his old age, eighty years old (according to Lucian, Pliny), the poet returned to his birthplace, to die from a grape that stuck to his throat while he was eating. His poetry had a great impact and spread not only in the ancient Greek world, but also in the future. The homeland of Teos carved his profile on its coins, and the Athenians erected his statue on the Acropolis, depicting the poet drunk and singing.