AESOPUS

Phrygia, approx. 6th century B.C.
FATIGUE IS A TREASURE FOR PEOPLE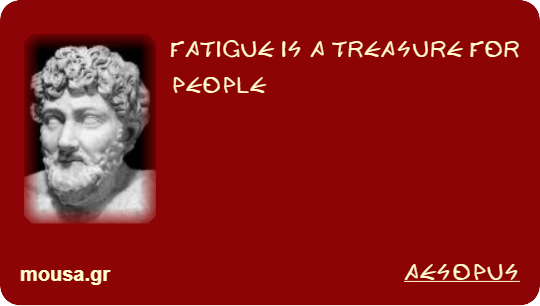 Copy and paste the following code:
Famous mythmaker of ancient Greece. He came from Phrygia and was a slave of the philosopher Iadmonus, who, when he realized the genius of Aesop, gave him his freedom. Tradition says that he was hunchbacked, crooked-legged and terribly misshapen. This is how the ancient busts depicted him.
He was distinguished for his wits and jokes and was a professional jester. Yet he was deeply philosophical and had a rare insight into human nature and society. He channeled his opinions on human affairs and events, moral, political and social, into myths in which animals were the protagonists, and this, so that his allegories would not be understood by others, thus he perfected the genre of myth-making. His fables are not entirely original. Their core, either Phrygian or Greek, pre-existed. But, he managed to utilize it and give it a peculiar form, unachievable in perfection.
Socrates in prison (as told by Plato), composed all the Aesopian fables he knew by heart. He is said to have been killed at Delphi, for his foul language, which left no one unbitten, or for sacrilege. According to Aristophanes, he usurped valuable gifts from King Croesus, in whose court he was hosted for some time. Myths are known throughout the world and generations upon generations read and spread them.