AESCHINES OF ATHENS

Athens, 389 - 314 B.C.
IN MONARCHIES AND OLIGARCHIES, ADMINISTRATION IS ADJUSTED ACCORDING TO THE CHARACTER OF THE RULERS, IN DEMOCRACIES HOWEVER, IT IS ADJUSTED ACCORDING TO THE APPROPRIATE LAWS.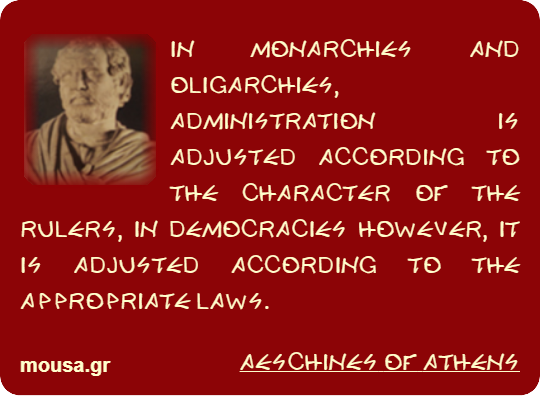 Copy and paste the following code:
Famous orator and politician, opponent of Demosthenes. He was born in Athens in 389 BC from poor parents so he could not attend the school of Isocrates and Plato, as was the case with other wealthy youths of his time. His occupation as an actor (tritagonist) gave him the opportunity to derive a rich education from the study of Ancient tragedies. As a public deputy secretary he had the opportunity to acquire rich knowledge about the legislation of Athens. He began his political career in 348 as an enemy of Philip after the capture of the city of Olynthos. He uttered speeches urging the Athenians to raise a Pan-Hellenic war against Philip.
The Athenians then elected him a member of the embassy, ​​which visited the cities of the Peloponnese to stir them up by uttering fiery speeches against Philip. In 346 the Philocratic peace was made between the Athenians and Philip, Aeschines and Demosthenes took part in the negotiations. Because in the negotiations Demosthenes perceived Aeschines' friendly disposition towards Philip, he denounced him to Timarchus. He was brought to trial, defending himself he delivered the famous parapresbea speech (his apology). The court's decision was acquittal for Aeschines. Then he joined the party of Evoulou and Phokion who wanted peace between the Athenians and Philip.
After the battle of Chaeronea in 338 Ctesiphon proposed that Demosthenes be honored with a golden crown for his virtue and patriotism. After this Aeschines filed a complaint claiming that the law did not allow Demosthenes to be honored with a crown. The trial took place in 330 BC six years later. At the trial, Aeschines delivered the speech against Ctesiphon, and Demosthenes the speech on crowning. The result of the trial was unfavorable for Aeschines.
He was sentenced to a fine and for infidelity. After that he fled to Rhodes where he founded a school of rhetoric. He died in 314. Only three discourses have survived from his works. The case against Timarchos, the case against Parapresbea (his apology) and the case against Ctesiphon. His speeches are considered excellent examples of rhetorical art.
Works
Against Timarchus
On parapresbea
Against Ctesiphon
Letters