PARMENIDES

Elea, approx. 540 - 450 B.C.
IN THE PRESENT THERE EXISTS AS A WHOLE AND INDIVISIBLE THE ONE THE UNIQUE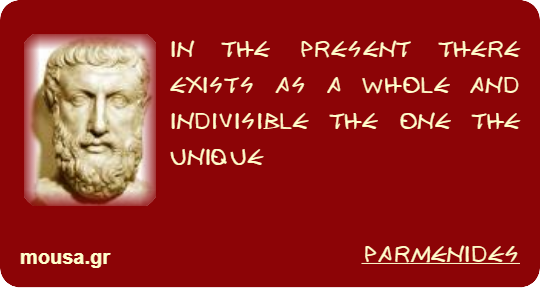 Copy and paste the following code:
Eminent philosopher of the Eleatic school. He lived and flourished around 500 BC. He legislated in his homeland of Elea. He was a friend of Xenophanes and associated with the Pythagoreans. Theophrastus mentions that his father was Pyris. Plato also mentions that Parmenides came to Athens at the age of 65 and that the then very young Socrates (14 - 16 years old) used to associate with him. Thus it is concluded that Parmenides would have been born in 520 BC and he came and stayed in Athens around 455. In a dialogue of the same name, Plato speaks of Parmenides with great appreciation, while, on the contrary, Aristotle fought the theories of Parmenides and the entire Eleatic school. The only work of Parmenides mentioned is "On Nature", which is written in hexameter verses and in the Ionian dialect, a work that was praised by the ancient technocritics.