CHRYSIPPUS

Tasus, 280 - 206 B.C.
ALL LOVE RELATIONS WITH MOTHERS, DAUGHTERS AND SONS ARE APPROPRIATE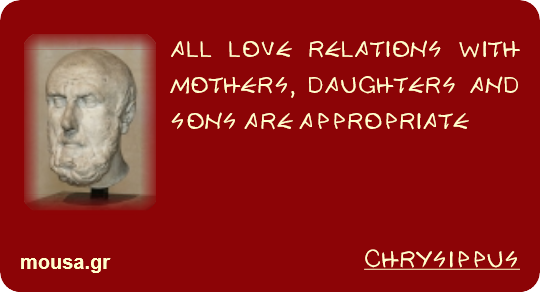 Copy and paste the following code:
Leading Stoic philosopher of the 3rd century BC from Solus of Cilicia or Tarsus. He is considered the regenerator of the Stoa and the exponent of Stoic "orthodoxy".
Initially, he studied at the Academy with Arkesilaos as headmaster. His training and pre-education in dialectic allowed him later to become "so aspiring among dialecticians", so that it was said that, if there was a dialectic among the gods, it would be none other than "that of Chrysippus". It was precisely thanks to her that he was later able to re-establish and systematize Stoic teaching with logical proofs. In the Stoa he was a student of Cleanthus with whom he often clashed and whom he succeded in 232 BC.
He was very hardworking ("ponikotatos"), and in his lectures, which took place in the countryside, at the Lyceum, he gathered crowds. Diogenes Laertius gives a figure of 750 of his works which is considered excessive. Diogenes Laertius lists a long list of titles of his works.