ARISTO

Chios, 3rd century B.C.
OUR GOAL SHOULD BE A LIFE THAT IS ABSOLUTELY INDIFFERENT TO THINGS THAT ARE NEITHER VIRTUE NOR, EVIL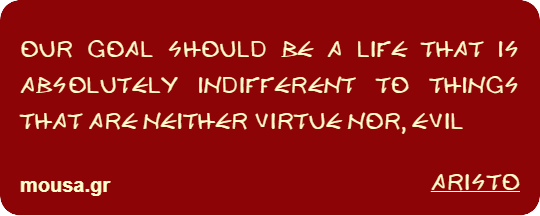 Copy and paste the following code:
Stoic philosopher who lived in the 3rd century BC. He was a student of Zeno from Kitio and Polemon of the Platonic Academy. After the death of Zeno in 264 BC founded his own school in Kynosarges. His students were Miltiades and Diphilos. Aristo did not value the theoretical sciences at all. For him, only morality mattered. He believed that the purpose of studying philosophy is the moral improvement of man. Of ethics he approved only the part which refers to the virtues and the value of goods. He criticized the moral rigor of the earlier Stoics. Diogenes Laertius mentions a series of writings by Aristo. But Panaetius maintains that the Stoic philosopher had written only letters, while the writings attributed to him belong to Aristo the Peripatic.