ANAXIMANDER

Miletus, 611 - 546 B.C.
WHAT HAS A BEGINNING AND AN END IS NEITHER ETERNAL NOR ENDLESS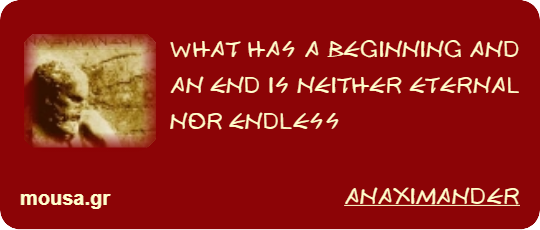 Copy and paste the following code:
A famous sage of antiquity, possibly a partner and student of fellow citizen Thales. According to some ancient authors Anaximander was the first to invent the skywatch (Solar clock). However, Herodotus says that this instrument came to Greece from Babylonia. So maybe Anaximander made it known and perfected it. He is also said to have drawn the first geographical map in which he represented the Earth in the shape of a cylinder.
Anaximander is the first Greek philosopher, who presented his opinions in a book written in prose and the first to use the name principle, a term that has prevailed in philosophy ever since. As the principle of beings, he considered "subtle" and infinite raw material without any properties, that is, the "Infinite", from which the worlds emanate and are formed, and to which, again, they all return. It is said that once he was visiting Sparta, he warned its inhabitants about an impending earthquake, which actually happened.