TIMOCLES

Athens, 4th century B.C.
A MARKET FULL OF GOODS, MAKES THE RICH MAN HAPPY ON THE CONTRARY IT FILLS THE POOR MAN WITH BITTERNESS AND SORROW.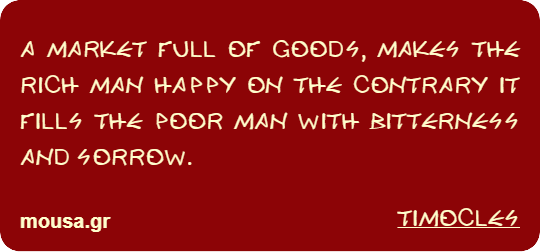 Copy and paste the following code:
Athenian comic poet of the second half of the 4th century BC. He is considered the most original poet of the last generation of middle Attic comedy. He was particularly successful in parodying tragic cases and was noted for his excellent style and delineation of the morals of the characters. In an inscription referring to the theatrical games of the Linnaeus, his name appears two positions after the name of Menander. In his 42 passages that have survived, he satirizes not only courtesans and parasites, but also political figures, such as Demosthenes, Hyperides, Moirocles, Callisthenes, Demotion, Thudippus, Telemachus, Acharneas, Dion and others. 27 of his comedy titles have been saved. His excerpts were published by Meineke in the 3rd volume of his Fragmenta Comicorum Graecoroum.