BIAS

Priene, 6th century B.C.
WE SHOULD ARRANGE OUR LIFE AS IF WE ARE GOING TO LIVE VERY BRIEFLY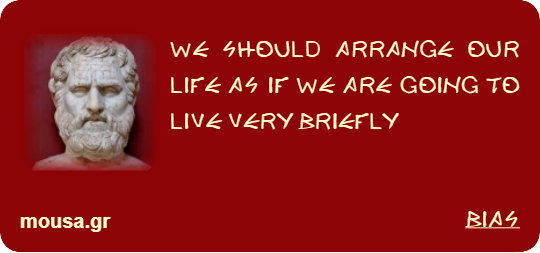 Copy and paste the following code:
One of the "Seven Sages" of Greece. He was born in Priene in Ionia, hence his name Prineus. Beneficial, unselfish and justice-loving, he advocated in the courts free of charge, to defend the wronged. After the conquest of Priene by the Persians, when the inhabitants left taking with them everything that was most valuable, Bias, although very rich, left his native city without taking anything with him. And, when they asked him, he said: "whatever I have, I bring with me." This phrase remained proverbial both in the Greek and Latin worlds.

Plutarch, Aristotle, Stobaius, Diogenes Laertius, refer to the wisdom of the man, a wisdom not so much theoretical as practical, which came from the sage's deep knowledge of man and his problems. Only a few of his maxims have survived, and among them, a fragment of his lyrical poem.