DIOGENES

Sinope, approx. 400 - 325 B.C.
HANDS TO FRIENDS SHOULD BE EXTENDED WITH FINGERS OPEN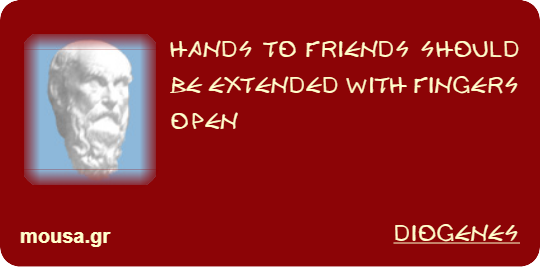 Copy and paste the following code:
Cynic philosopher. The representative par excellence of Cynic philosophy. He was born in Sinope and came to Athens as a young man to study with Antisthenes, the founder of Cynic philosophy. He lived sometimes in Athens, sometimes in Corinth, where he died in 323 BC in old age.
Diogenes Laertius cites a long list of the philosopher's works, of which nothing has survived. He himself collected quotes, anecdotes and details from the life of the great cynic. However, many of these are probably inventions of his later admirers. Diogenes' life was austere, and the Athenians loved him dearly for his readiness and intelligence, with which he answered every question they asked him, as well as for the relentless and rough way in which he targeted the ills in society. His thinking was exclusively concerned with moral and social problems, and his teaching, essentially, was revolutionary and subversive of the existing order.
Diogenes sought radical change and transformation of human society and corrupt human nature. Humans - he said - have been forged by nature with noble metal, but which circumstances have debased. Therefore, it must be merged and re-forged, so that man can once again become the image of God. This goal is achieved with the Socratic method through knowledge. Man must study himself and understand human nature. Thus man will attain the highest bliss. He mainly extols the necessity of man's return to nature, as Rousseau later did.
Nature, says Diogenes, provided man with all the necessities of life, but he created artificial and non-existent desires and needs which often lead him to wickedness and corruption. The natural and austere life is incomparably more hedonistic than the life of civilized man, who pursues artificial pleasures and lives a life more miserable than that of animals.
Diogenes, according to tradition, was housed in a jar, guarded by his dogs, thus proving that even the house was something superfluous.