ARISTIPUS

Cyrene, , approx. 435 - 355 B.C.
FEELINGS CAN BE PERCEIVED, BUT NOT THE CAUSES THAT CAUSE THEM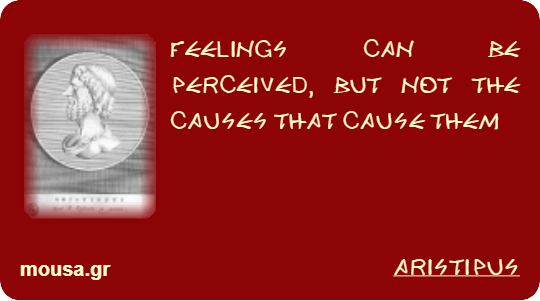 Copy and paste the following code:
Cyreneus. Greek philosopher, founder of the Cyrenaic school. He came from a wealthy family of Cyrenia. He was a little older than Plato. He lived around 435 - 355 BC. He was originally a student of Protagoras, whose theory of the senses greatly influenced him. He later became a student of Socrates, but his teaching did not succeed in changing his biotheoretical views. Thus, after the death of Socrates, he continued to live as a sophist in Athens and in many parts of Greece, and for some time he lived with Plato at the court of Dionysius, tyrant of Syracuse.

Socrates' teaching helped him to reinforce his view that knowledge is of value to man only when it fulfills practical and, above all, moral purposes.

No writings of Aristippus have reached our days. Diogenes Laertius mentions only titles of his writings. His teaching at the school was continued by his daughter Aretis, who also introduced her son Aristippo the Younger to his grandfather's teaching.

Aristippus refuses to deal with anything but problems directly related to ethics. For this reason, we find in this philosopher thoughts that concern exclusively ethics and, at the same time, the psychology of emotions.

Aristippus thinks like Heraclitus and argues that as everything changes, so does the human body. Because of this change the harmony which is the natural state of the body is sometimes disturbed. But it can be restored again. Disharmony creates pain, harmony creates pleasure. Also, emotional states are related to movements. Calm, gentle movements cause pleasure, while hard and sharp movements cause pain. Perfect stillness causes neither pain nor pleasure. Man deserves to reach only one of these three states, pleasure. Thus, according to Aristippus, the sole purpose of the will is pleasure. In this way, pleasure is identified with virtue. Whatever causes pleasure is good, whatever causes pain is bad. The rest of the situations, outside of this one, must be indifferent to us.

To the question: "what is virtue?" Aristippus answers ruthlessly: "virtue is pleasure". With this perception he becomes the founder of hedonism. This hedonism is a type of eudaimonism that we find in Socrates. For Socrates, however, eudaimonia is permanent tranquility and health of the soul, instead of a momentary hedonistic feeling. He is not interested in the type and origin of pleasure. As a kind, each pleasure has the same value as another, of a different kind. The pleasures do not differ in quality, but they differ in the degree of intensity. Physical pleasures (caused by the senses) are superior to moral pleasures because they are immediate. Moreover, moral pleasures are not momentary, but lasting.

According to Aristippus, virtue is nothing but a momentary pleasure as intense as possible. To reach such a pleasure requires wisdom. This concept constitutes the Socratic element in the philosophy of Aristippus. Only through knowledge can we become happy. So, for that reason alone, knowledge is a value. Knowledge frees man from prejudices, superstitions and passions. It teaches man to benefit, as best he can, from the goods of life. Knowledge gives the one who possesses it confidence and self-confidence. Thanks to this confidence, the sage is not swayed by the challenges of the outside world. He also dominates the conditions of his environment and uses it according to his own desires. Finally, the wise man, because of the certainty he feels, he has the ability to be master of himself, even when tasting pleasure. According to Aristippus and his followers, he who knows how to benefit from the goods of life is wise. Such a person benefits from the good side of things as well as from the objects and persons of his environment. But never, during pleasure, does he lose control of his actions. He knows how to dominate his passions. He never tries to get the impossible. And on days when he is not very happy, he knows not to lose his peace of mind and cheerfulness.